Now that my children are grown, I can reflect back on what was most important during those formative years. I know that sitting down to dinner, especially on Sundays, was vital in keeping our family close and connected. I fear that this time has gone by the wayside, but the Sunday Supper movement is about reconnecting with one another.
Reclaim your Sundays and take the Sunday Supper pledge. Each Sunday I will be posting recipes for dinner that will satisfy your family, won't break the bank, and won't require hours of cooking. I will take advantage of the extra time on Sunday to make a sauce, roast a nice cut of meat, or create a heart-warming, stomach-pleasing stew.
This week I have a wonderful stove top meal that saves money by buying frozen seafood and time by preparing it on the stove. This is a rich flavored meal that you will enjoy.
Pan-fried Scallops with Vegetables


1 16 oz bag of frozen scallops, medium
1 zucchini, seeded and chopped
1 onion, chopped
1 small box of baby bellas, cut in half.
1 head of broccoli
3 T butter
the juice of one lemon
2 cloves of garlic
Melt 1 T butter in a skillet. Rinse and pat dry the scallops. Season with salt and pepper. Sear the scallops until done, about two minutes on each side, remove and keep them warm. Add 2 T butter to skillet, 2 cloves of minced garlic and the juice of one lemon and cook for about three minutes. Add the scallops back in, stir in sauce and baste them. Remove and keep warm.
Saute onions, zucchini, and mushrooms in the same skillet. Cook until onions are translucent.
In a separate pot, bring 1 inch of water to a boil. Add in steamer basket and the head of broccoli chopped into large pieces. Cover, and steam until fork tender, about 4 minutes.
Chopping veggies takes a bit of time, so that is why I like this dish for Sundays. You can set the family to work chopping the veggies and breaking up the broccoli while you get everything ready on the stove top. Family time, sharing cooking tips, and eating together makes a fabulous Sunday!
Check out the other recipes here to complete your Sunday Supper experience.
Sunday Supper Recipes
Super Sunday Entrees
Sweet Sunday Desserts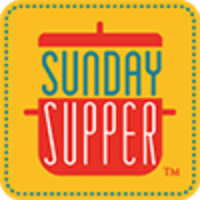 The Sunday Supper Movement is committed to bringing our readers delicious recipes that encourage them to gather and eat together around the family table. Search for your favorite ingredients on our
Sunday Supper website.
Also check out the
Sunday Supper Pinterest boards
for plenty more ideas and inspiration.