Our host, Gwendolyn from
Wine Predator
, invited us to this #ItalianFWT (FoodWineTravel) in a blog post that shared these five reasons for drinking Barbera: What We Love About Barbera– 5 Reasons
Full body
High acidity
Low tannins
Intense ruby color with a pretty pink rim
Can stand up to rich juicy foods from hamburgers to lasagna
and it's often more affordable than those other Italian wines that start with the letter B!
I chose the Abbonna Barbera del Monferrato for this event. This is an elegant bottle of wine. In fact, we used this wine to celebrate a recent job change for me. I am a retired school principal who works post-retirement at the University of Missouri as an education consultant for those who don't know me. I have dedicated personal time to help develop the Missouri Teacher Development System and now I am going to be working full time on this project! I am sad to give up one of my part-time positions as a field representative for a teacher evaluation system. That work was important to me and I believe in its effectiveness in improving teacher practice.
Let's get back to wine.
The red Barbera grape is grown throughout Italy, but the Piedmont region, at the foot of the Alps, produces the most celebrated Barbera wines, including Barbera d'Alba and Barbera d'Asti. Traditionally, Barbera exhibits sour cherry and other red fruit flavors, light tannins, high acidity, and medium body. When aged in oak, Barbera gains body and complexity.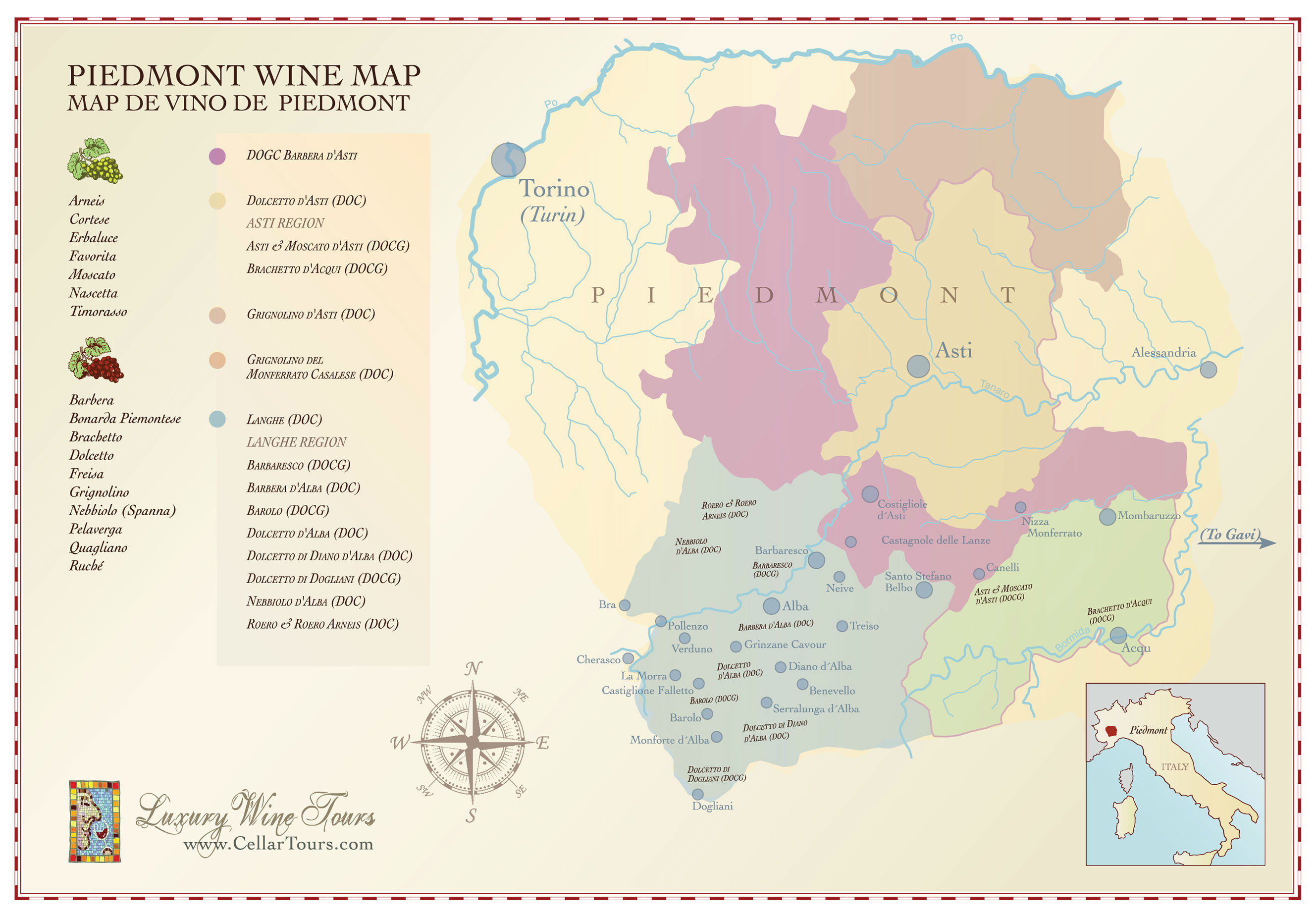 This Barbera wine, the Abbona Barbera, was the child of Juliette Colbert de Maulevrier, a French noblewoman, who started what later became the Marchesi di Barolo winery in the early 1800s. Passionate about wine, she was one of the few women involved in growing and making at the time.
The Abbona family inherited Marchesi di Barolo and have been making astounding wines there since 1895. Today, Valentina Abbona, a sixth-generation producer, heads the winery. When she was a kid, her parents told her Juliette's story and even now it inspires Valentina to follow her passion for wine. (source: Total Wines webpage) I love a great story about a winery, don't you?
BRAND Abbona
COUNTRY / STATE Italy
REGION Piedmont
WINE TYPE Red Wine
VARIETAL Barbera
STYLE Elegant
ABV 14%
TASTE Black Fruit, Red Fruit, Nutmeg
BODY Full-bodied
PRICE POINT $18
The #ItalianFWT bloggers and wine experts have also written beautiful posts about Barbera. Please go and check them out.
Classic Barbera food pairings include Italian cuisine, especially beef dishes and tomato-based sauces. We have reduced our red meat intake so we decided to use a meaty scallop in this dish we developed for this wine. We also exchanged traditional pasta for cauliflower rice. We were very happy about these exchanges.
The pairing worked beautifully. The rich tomato and olive sauce enhanced the deep red fruits of the wine. The olives were very important to this dish, their saltiness with this deep wine was delightful.
Scallops with Tomatoes and Olives
Prep time: 10 Min
Cook time: 30 Min
Total time: 40 Min
A delicious Italian inspired dish.
Ingredients
1.5 lb scallops
1/4 t. black pepper
1 14.5 oz can diced tomatoes
1/2 c Barbera wine (or other dry red)
2 cloves garlic
1/2 c chicken broth
1/4 c olives
fresh basil
2 c cauliflower, riced
Instructions
Thaw scallops, if frozen. Rinse scallops; pat dry with paper towels. Sprinkle scallops with the pepper; set aside.
Set aside half of the diced tomatoes. In a blender or food processor, combine the remaining diced tomatoes and the juice from the can. Cover and blend or process until smooth; set aside.
Preheat a very large skillet over medium-high heat for 2 to 3 minutes. Add oil to hot skillet; swirl to lightly coat skillet.
Add scallops to hot skillet; cook about 4 minutes or until golden brown and opaque, turning once. Transfer scallops to a warm platter; cover and keep warm.
Add wine and garlic to the skillet. Cook for 1 to 2 minutes or until the wine mixture is reduced by one-third. Add the reserved tomatoes, the pureed tomato mixture, and the broth. Bring to boiling then reduce heat. Simmer, uncovered, for 4 to 5 minutes or until sauce begins to thicken slightly.
Remove from heat; stir in olives. Divide hot, cooked riced cauliflower among four shallow pasta bowls. Spoon sauce over fettuccine; toss to combine. Arrange scallops on top of riced cauliflower. Sprinkle with basil. Serve immediately.
Sodium (milligrams)
1447.69
Did you make this recipe?
Tag
@tsteffes
on instagram and hashtag it #OurGoodLifeRecipes